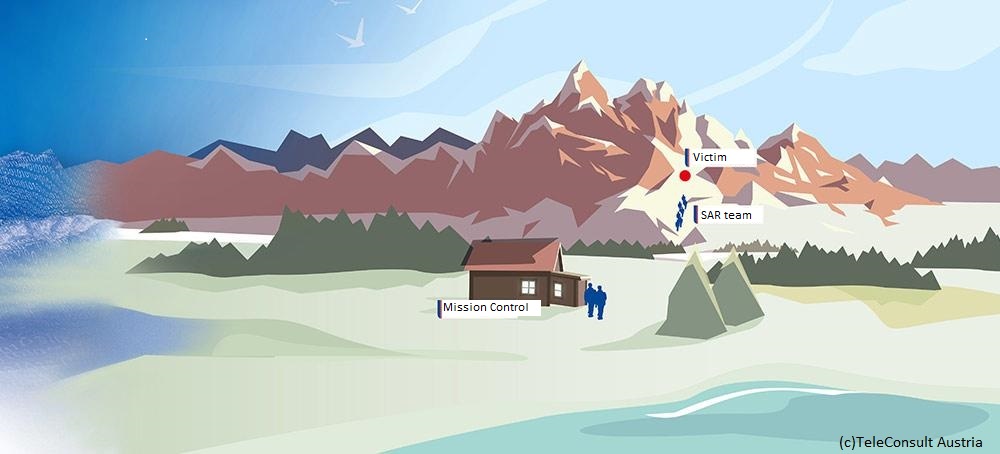 SARONTAR©
Search & Rescue in wilderness environments
SARONTAR©, operated by TeleConsult Austria GmbH, is a system with live team tracking for an effective and coordinated approach in Search and Rescue (SAR) operations in wilderness environments.
All position data, received messages and warnings are processed by SARONTAR©. This consolidated information is graphically presented on the mobile devices and in the Mission Control Centre.
With the help of satellite-based positioning and communication, SAR teams at remote locations are coordinated by a central SAR Control Centre to support the tasks of rescue workers with position-dependent information. To support these forces, geo-information, remote sensing and communication techniques are used.
In the case of natural disasters (avalanches, landslides, flooding) or accidents in wilderness environments, the race against time is of essence. The affected persons should be provided with the necessary assistance as quickly and efficiently as possible. With SARONTAR©, the focus is placed on exactly this fact: the rapid and coordinated organization support for emergencies in wilderness environments. As a satellite-based control system, SARONTAR© can provide this support by improving the awareness of the situation and the coordination of the rescue forces.
The availability of a complete system significantly shortens the time required to rescue casualties, thereby significantly improving their chance of survival.
The technical realization of SARONTAR© is based on the integration of satellite-based positioning, navigation, geo-information and communication.
SARONTAR© is fully operational at the department of civil protection in Styria, Austria.
Mobile devices for the rescue teams
Smartphones with Android App
SatCom Messenger
TETRA radios (BOS Austria Digital radio network)
Mobile device functionality
Automatic and regular transmission of the location
Exchange of messages with the control centre (text, POIs, locations, etc.)
Map view with sent/received geo-information
Offline maps (e.g. OpenStreetMap)
Mission Control Centre
Web Portal
SatCom Router (optional) for internet access in remote areas
Mission Control Centre functionality
Management of SAR operations
Collection and forwarding of initial information
Allocation of mobile devices
Map view of all relevant geo-information and current locations of the mobile forces (OeK, basemap, OpenStreetMap)
Message Exchange between the mobile devices (including search areas and routes)
Export of the entire search and rescue operation documentation
TeleOrbit GmbH is the distributor in Germany and is also responsible for customer care.
For further information, please send an e-mail to: info@teleorbit.eu